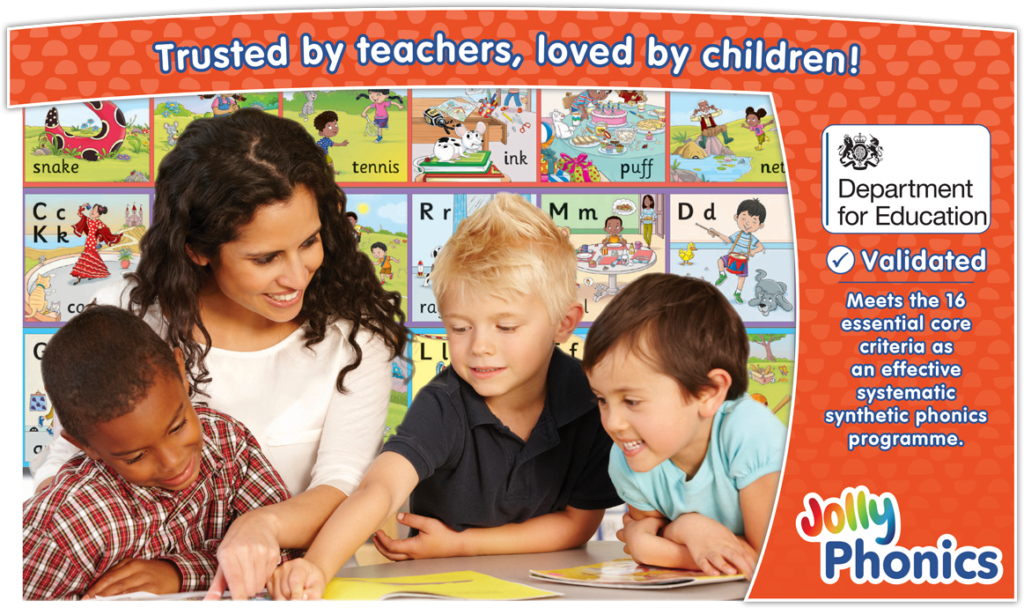 Trusted by teachers and loved by children, the fantastic Jolly Phonics programme is fully validated by the Department for Education as an effective systematic synthetic phonics programme.
This means that it meets the 16 essential core criteria for systematic, synthetic phonics programmes required by the DfE in England.  We continue to help thousands of teachers create confident and fluent readers and writers in over 100 countries!
To discover all the reasons why your school should choose Jolly Phonics, just click here.
Brand new Jolly Phonics resources!

As part of a company-wide refresh, we are delighted to be able to present a selection of brand new resources that will help you get your children on their reading and writing journeys.
Be it our activity-packed Bumper Book of Phonics Fun or our beautifully illustrated Finger Phonics Books, the exciting theatre of Jolly Plays or our stunning, photographic Our World Readers, our fantastic range is sure to be loved by teachers and children alike.
You can discover all of our brilliant new resources here, whilst you are able to browse preview pages for them all via their listings within our UK Shop here.
Jolly Phonics UK in-school training
If you're a school in the UK looking to undertake training to help unlock every teacher's potential to achieve greater success in the classroom, get in contact with us today! Whether you are looking to adopt Jolly Phonics as your school's new SSP programme, are using the Jolly Phonics programme already, or just want to learn more about achieving the best results, we can provide a number of options.
Simply click below to fill your contact details in our short form, and one of our team will get back to you as soon as possible! Alternatively, you can email brad@jollylearning.co.uk directly, including details of your school and what training you are looking for.
Click here to fill in our short form and have one of the team contact you!