Teachers can access the best resources to support your children, inside and outside of the classroom!
Classroom Teaching and Skills Videos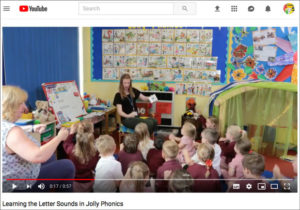 Teaching videos showing the key skills taught in Jolly Phonics. Click here.
Additionally, several of our wonderful Jolly Phonics Trainers, Santina Di Mauro, Deb Bible and Grace Vilar, have been filming lessons for you to access at home.
Click here to access Santina's videos.
Click here to access Deb's videos.
Click here to access Grace's videos.
For all other enquiries, please do not hesitate to email info@jollylearning.co.uk where one of the team will get back to you as soon as we can!