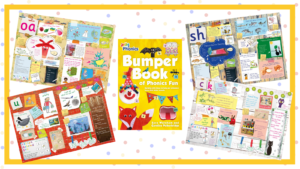 We are delighted to introduce you to our brand new book, the Bumper Book of Phonics Fun!
The Bumper Book of Phonics Fun is a bumper resource packed full of ideas and activities designed to support the teaching of letter sounds in a fun, multisensory way. Never run out of teaching ideas for your pre-schoolers again with this book by your side. Children can learn their letter sounds whilst investigating and enjoying the world around them.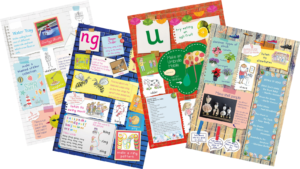 The Bumper Books of Phonics Fun contains two double-page spreads for each of the 42 letter sounds. Each double-page spread has a plethora of activity ideas – including books to read, things to make, songs to listen to and recipes for cake – as well as word lists and all of the lyrics to the Jolly Songs, alongside their actions.
Click here to have a look inside!
View the Bumper Book of Phonics Fun Postcard here
This resource is available to purchase in both our UK and US shops!