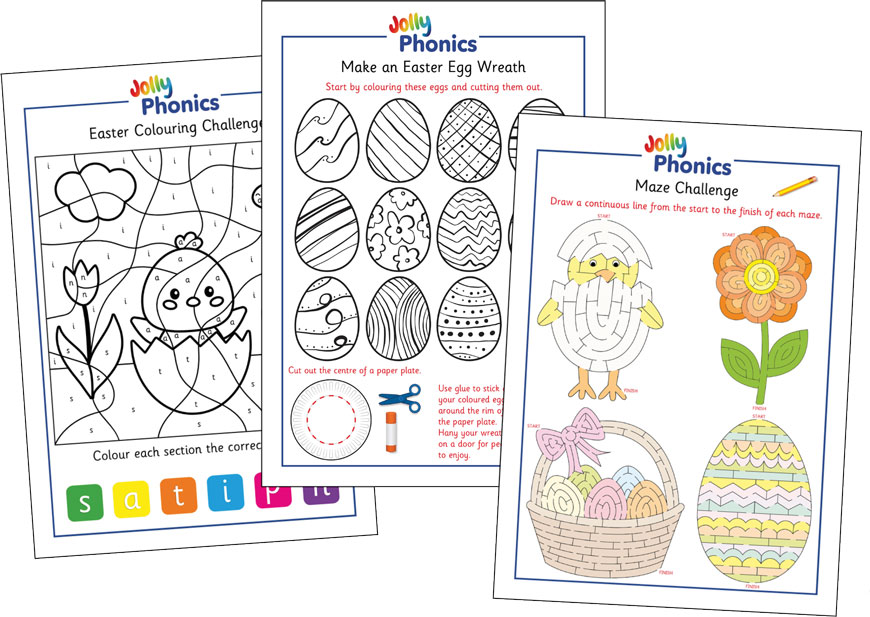 A selection of worksheets themed around Easter for your child to complete! Just click the links below to download them.
Easter Egg Hunt
This Easter Egg Hunt is perfect for developing your child's comprehension skills. A selection of questions are asked, with children needing to look at the map to find the answers.
Easter Phonics Colouring Challenge
This phonics colouring challenge is perfect for developing your child's letter sounds skills. A colour-by-numbers – but instead of numbers, children need to match the letter sounds. 
Easter Egg Wreath
A creative activity for the /e/ sound. Children can colour and cut out a selection of Easter Eggs to make a colourful wreath.
Easter Maze Challenge
This Maze Challenge is perfect for practicing your child's pencil skills. Children are required to draw a continuous line from the start to the finish of each image.
Easter Egg Sudoku
A traditional Sudoku game, but instead of using number, there are images of Easter Eggs for children to position.
Alphabet Egg Hunt
Help guide the girl to the flowers by joining the letters in alphabetical order.
Easter dot-to-dot
Join the dots to complete the picture, then colour it in.
Complete the eggs
Cut out each egg centre and stick it inside the correct egg.